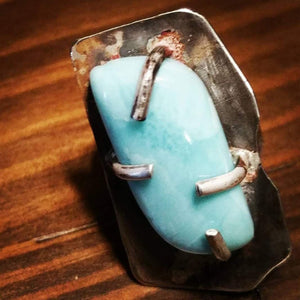 This beautiful ring features the stone Larimar which represents peace and clarity. It is said to enlighten and heal in a physical, emotional, mental and spiritual way. It helps dissolve emotional barriers and release stored negative energy. Very power stone in alleviating stress.

Larimar is only found in the Dominican Republic.
I named this ring Restoration. Because that is what I hope happens for the island of
Hispaniola (Haiti & Domican Republic) and all who wear it.