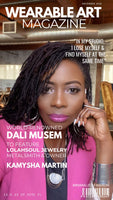 DEBUTING MY NEW COLLECTION AT THE DALI MUSEUM!!!
I cannot begin to express my excitement about this! And I've learned that it's okay to sit with this feeling. It's more than okay...it's necessary. Usually I'm so busy moving on to the next project. But not this time. Enjoying & appreciating the JOURNEY of this EXPERIENCE is something I promised myself I'd do more often. ART has truly saved my life...so many times...and on so many levels. So I'm taking time to honor it... and to savor this moment. Salvador Dali was known for taking risks and showing us the sheer brilliance that comes from embracing pure, boundless creativity. Sounds about right.
The Collection: REDEFINED
Every piece in The Collection: REDEFINED is created from something that already existed in my studio, The House of lolahSoul. That 'something' could be supplies (stones, wire, metal) or another piece of jewelry that had yet to be sold...that I redefined. My fervent hope is that this collection reminds you of the importance of redefining.  As we grow, so too should how we define things: happiness, joy, success, family, femininity, love... And these definitions should be YOURS.  Not someone else's.  Not what society says.  Not what social media says.  This journey is YOURS. Enjoy, learn, grow and define and re-define every moment of it.
Check back often, as I will be adding new items along my journey.
Discover the Collection
THE COLLECTION: REDEFINED
#BEINGFEARLESS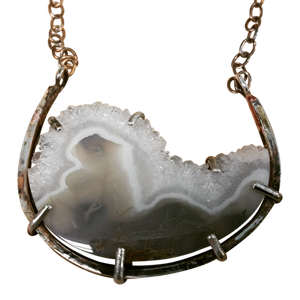 YIN by lolahSoul
Brazilian Agate brings about an emotional, physical and intellectual balance, harmonizing yin and yang. It is known to bring hidden information to light. This piece, Yin, is laced with tons of druzy on top, which enhances it's properties.
NECKLACES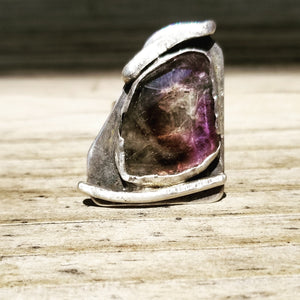 WARRIOR THE RING
Amethyst is a powerful and protective stone. It relieves stress and strain, soothes irritability and balances mood swings. It calms and stimulates the mind, helping you become more focused, enhancing memory and improving motivation. 
RINGS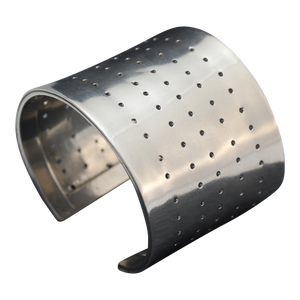 PERFORATED CUFF
Sleek sterling silver goes industrial in the modern, edgy look of this stunning cuff bracelet.
This cuff features hand-drilled holes for a striking perforated and unique look.  
CUFFS
"Who were you...before the world told you who you should be?"
ONE OF A KIND WEARABLE ART
_
Once one-of-a-kind pieces are gone... they're gone.
But I keep some on the website so you can get a sense of my artistic voice. 
"Beautiful Girl...you can do hard things"
"Outside your comfort zone is where the MAGIC happens..."
Due to COVID-19 we are currently not offering Metal With a Twist Sessions. If you'd like to be notified when we are back up and running, please email us at: Jewelry@lolahSoul.com 
---
Metal With a Twist is a new and exciting way to unleash your inner jewelry designer.
You create your own unique piece of jewelry. It's a fun, creative, social experience with your friends.
An instructor will guide you while you design & create your jewelry. Relax and unleash your creative self.
You will leave the lolahSoul Session with a finished piece that you will be proud to adorn.
And the best part….YOU made it!
That was SO FUN! Thanks for the great night and for guiding me to create my new bling!

@rfwhowell
I had a great time and I can't wait for the next class.🖤

@pkenyatte40
I CANNOT believe I made this jewelry....like I REALLY made it myself.  WOW!!!

@jojo108
"What would you do if you weren't afraid?"